Data Privacy
Mitigating data privacy risks, complying with government regulations, and safeguarding against cyber threats
Data is an organization's most strategic asset. An effective plan that responds to today's rapidly changing landscape is key.
Data minimization enhances privacy and security, and it also streamlines data management processes, resulting in increased efficiency and cost savings. This approach results in a more efficient, secure operation with a reduced attack surface and diminished fine potential.
"By year-end 2024, Gartner predicts that 75% of the world's population will have its personal data covered under modern privacy regulations." [1]
Ankura offers unbeatable expertise, a suite of solutions, and a track record of successful outcomes for middle market companies and large organizations. Our team, led by experts in data privacy and cybersecurity, delivers the tools needed to bring peace of mind to our clients.
500

Privacy impact assessments

40

Countries operated in

150+

GDPR readiness projects

200+

CCPA and emerging U.S. state privacy law readiness projects delivered

Data Privacy Regulation Tracker Map
Researching data privacy legislation for every state can be a time-consuming and overwhelming task. That's why we developed our Data Privacy Regulation Tracker Map. The tracker offers a convenient way to review up-to-date data privacy laws by state and generate customized, downloadable, and shareable documents.
We Understand the Urgency of Protecting Data
Data privacy regulations are being launched at an unprecedented pace across the globe. Handling this explosion of data privacy laws is a top business priority, as the risk of financial penalties for noncompliance and loss of customer trust is very real.
Our clients continue to face a plethora of new and ever-changing data privacy regulations. Developing policy is complicated— not only do companies need to comply with current and upcoming federal data privacy laws, but they also need to act in accordance with emerging regulations that differ from state to state. If operating outside of the U.S., it is also necessary to maintain compliance with evolving global regulations. On top of that, companies in highly regulated industries such as healthcare, financial, and education face even more complex challenges.
Armed with a deep understanding of cybersecurity risks and the nuances of state, federal, and global privacy laws, such as GDPR, CCPA, CPRA, HIPAA, and GLBA, our team provides the personalized support needed in order to protect data, remain compliant, and mitigate risks. As a leader in our field, we have worked with many organizations just starting their data privacy roadmap, as well as a significant portion of Fortune 50 companies in many different industries. No matter the industry, size of company, or geographic location, we can help you along your privacy journey.
Top 5

Automakers

Top 5

Financial Firms

Top 5

Healthcare

Top 3

Fast Casual Restaurant Groups
Take Our Data Privacy & Cybersecurity Maturity Assessment
Take our online Data Privacy Maturity Assessment and you'll receive immediate results regarding your company's preparedness. After the assessment, we can review your organization's unique risk profile and share how best to use your existing security tools during a free consultation.
We have assembled the best minds in data privacy and cybersecurity to create a suite of solutions that provide the expertise and skills needed at critical moments. Our experts have extensive experience working with leading middle market companies and large organizations on their data privacy policies. We have developed a multistep data privacy approach that guides organizations in building, operationalizing, and maintaining the right compliance solution for laws worldwide.
Step 1: Privacy Maturity Assessment
Step 2: Data Inventory/Data Mapping
Step 3: Records Management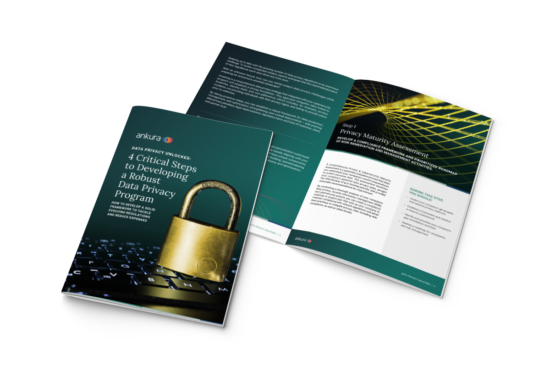 Data Privacy Unlocked
Explore our in-depth guide on how to develop a solid framework to tackle evolving regulations and reduce expenses.
What Sets Us Apart
Right-fit custom solutions allow us to get to know the distinct needs of your organization.
The Ankura team applies best practices to create solutions that cater to your organization's specific requirements.
Working as an extension of your in-house team, we assess and mitigate risks, pinpoint threats, and provide customized results.
Multi-solution integration across diverse internal services broadens your access to subject experts and provides greater flexibility.
Cross-functional expertise in building data privacy, cybersecurity, and records information management programs allows us to help you protect your data, remain compliant, and mitigate risks.
Our integrated approach delivers a sturdy, secure infrastructure that safeguards your data while optimizing operations and improving overall efficiency.
Our global team has proven robust expertise.
We have built data privacy programs for leading U.S. and global companies across industries, including automotive, telecom, pharmaceuticals, healthcare, retail, financial services, and others.
No matter the industry, size of company, or geographic location, you can be confident we have the collective knowledge and experience to provide the personalized support you need.
Our comprehensive suite of services helps you address complex challenges in today's fast-paced digital landscape.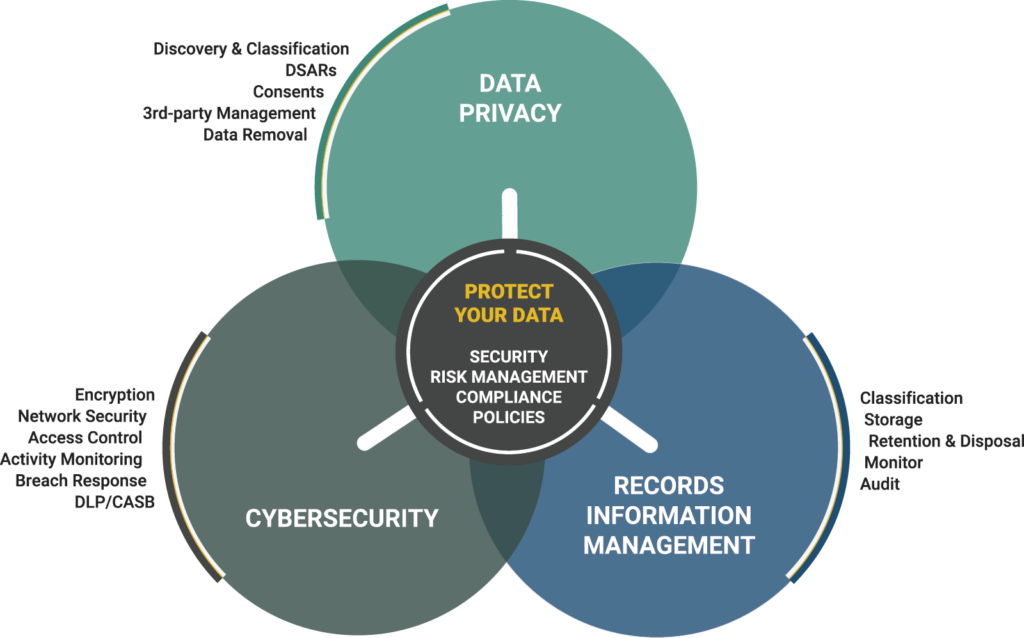 ---
Resources
Prioritizing Privacy Programs Based on the NIST Privacy Framework
How to implement the five core functions of the National Institute of Standards and Technology (NIST) Privacy Framework
Operational Considerations for Privacy Shield 3.0: New EU-U.S. Data Privacy Framework
Learn about the impact of the the European Commission adequacy decision implementing the EU-U.S. Data Privacy Framework (DPF).
Emerging Data Privacy Laws Require Dramatic Change to Traditional RIM Programs
Records and Information Management (RIM) will be an important player on teams working to achieve privacy compliance.
Be Proactive, Not Reactive
To move from compliance to confidence, it is crucial to have a data privacy partner that offers custom, expert-led services and a proven track record of developing successful data privacy strategies. In addition to offering strong expertise in regulation compliance, this partner should also have the aptitude to help build a solution and the ability to bundle data privacy with cybersecurity services if needed.
---
Meet the International Team